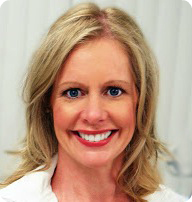 Dr. Kathleen "Katie" Page is a physician specializing in diabetes and childhood obesity at the Keck School of Medicine of the University of Southern California (USC). She is an Assistant Professor and practicing Endocrinologist in the Department of Internal Medicine at USC.
Dr. Page has an active research program that seeks to understand the causes of obesity and diabetes so that more effective strategies can be developed for reducing the number of people affected by these health conditions. Diabetes and obesity are critical health topics to study as in the United States, more than 35% of adults and 17% of children are obese. Additionally, 25.8 million children and adults have diabetes — this is a staggering 8.3% of the population. Her research has been recognized by awards from the Endocrine Society, the American Heart Association and the American Federation for Medical Research. She has active grant funding from the National Institutes of Health (NIH), the American Diabetes Association, the American Heart Association and the Doris Duke Charitable Foundation.
You can read her latest blog post Welcome to my New Website, read about her research, her recent publications and the people who work in the Page Lab. Contact Dr. Katie Page about research or speaking engagements and the Page Lab team here.